Wednesday, June 18, 2008
10-

Torre Galatea (Figueras, Spain)
The first things you notice are the giant egg sculptures along the roofline. Then it hits you that the Salvador Dali Theater Museum in Figueras, Spain, is no ordinary building. The museum's tower, Torre Galatea, was named for the surrealist artist's deceased wife, and Dali himself lived there until his death in 1989. Interestingly, the museum sits next to the parish church where Dali was baptized in 1904; he is buried in an unmarked crypt in the museum's main exhibition hall.
9-

Sydney Opera House (Sydney)
Designed by Danish architect Jorn Utzon with a roof in the shape of a ship at full sail, the Sydney Opera House opened in October 1973, with an inaugural performance of Opera Australia's production of Sergei Prokofiev's "War and Peace." The building is also home to the Sydney Theatre Company and Sydney Symphony, and continues to be one of Australia's most popular architectural icons.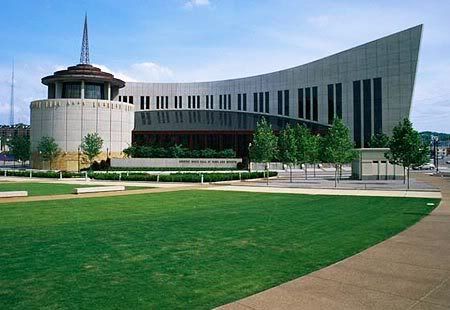 8-

Country Music Hall of Fame and Museum (Nashville, Tenn.)
True to its tuneful roots, the Country Music Hall of Fame and Museum in Nashville is constructed in the shape of a treble clef; it boasts an exterior that resembles a piano keyboard, right down to the piano-key-shaped windows. Built at a cost of $37 million, the museum opened in 2001 and houses a vast collection of country-music video clips, recorded music, dynamic exhibits and more.
7-

Longaberger Co. (Newark, Ohio)
A tisket, a tasket, an office in … a basket? That's a typical day for employees of the Longaberger Co., a maker of handcrafted baskets, pottery and ceramics, whose corporate headquarters resembles a giant picnic basket. Completed in 1997 after two years of construction, the seven-story building in Newark, Ohio, is a replica of the company's medium market basket. It's especially spectacular at night when light glows from the building's 84 windows.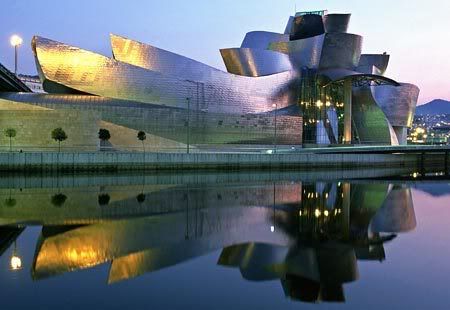 6-

Guggenheim Museum (Bilbao, Spain)
Architect Frank Gehry designed the Guggenheim Museum, located in the port city of Bilbao, to resemble a ship, with its reflective titanium panels mimicking fish scales. Lauded by Time magazine as the "building of the century," the museum was completed in 1997 at a cost of $100 million and features Gehry's signature curvy, free-form sculptural style. Movie lovers might recognize the building from its cameo appearance in the opening sequence of the 1999 James Bond film, "The World Is Not Enough."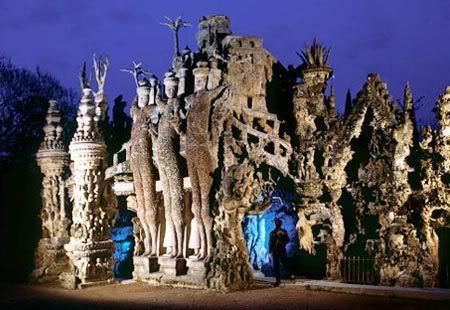 5-
Ideal Palace of Ferdinand Cheval (Hauterives, France)
In 1879, French mail carrier Ferdinand Cheval began building a structure that was inspired by the shape of a stone he tripped over one day. Thirty-three years and many, many stones later, Cheval's "Ideal Palace" was completed in Hauterives, France. Made of stones bound together with lime, mortar and cement, the palace is considered an extraordinary example of naïve art architecture.
4-

The Haines Shoe House (York County, Pa.)
Modeled after a high-top work shoe, the Haines Shoe House, built in 1948, was shoe entrepreneur Mahlon Haines' most outrageous advertising gimmick. The 48-foot-long by 17-foot- wide by 25-foot-tall wood-frame house in York County incorporates three bedrooms, two baths, a kitchen and living room on five levels. Sold after Haines' death, the house was briefly an ice cream parlor before reverting to family ownership; today the house is a museum that honors the "Shoe Wizard."
3-

Frederick R. Weisman Art Museum (Minneapolis)
Located on a bluff overlooking the Mississippi River in Minneapolis, the Frederick R. Weisman Art Museum at the University of Minnesota is an edifice of two faces. On the campus side, the brick façade mixes easily with nearby brick and sandstone buildings. On the other side, the museum boasts curvy and angular brushed steel surfaces that bespeak the work of the project's designer, architect Frank Gehry.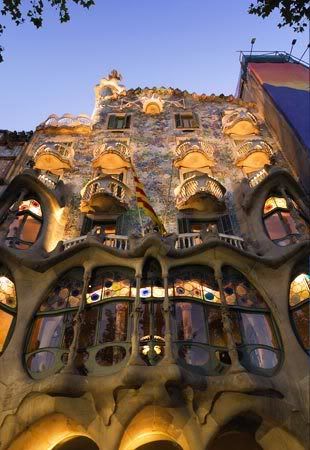 2-

Casa Batllo (Barcelona)
When owner Josep Batllo commissioned architect Antoni Gaudi to remodel his 1877 home in Barcelona, Spain, the architect not only made radical changes to every part of the original dwelling, but also created a modern masterpiece that more than 100 years later still commands attention. Completed in 1904, the house has a façade covered in colorful mosaics, with balconies that resemble skulls and first-floor columns that look like human bones — not your typical fixer-upper.
1-

Residential Car-House (Salzburg, Austria)
Talk about your mobile homes! This compact (300 square meters) home on wheels in Salzburg, Austria, is the brainchild of German architect Markus Voglreiter, who spent about 1 million euros to build it in 2004. Constructed of wood and inspired by the VW Beetle, the "Residential Car-House" is thermal-insulated, has an open floor plan and comes equipped with technology to make it energy-efficient.
Labels: amazing, RAR, www
1 comments